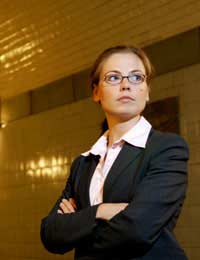 Poor visibility and quiet roads exacerbate safety risks after dark. There are lots of things that you can do to avoid the attention of opportunists so take a moment to read our after-dark safety guide. Think safe – and avoid becoming a target.
Money and Cards
Assess where you are keeping your valuables when you're out after dark. Choose a zipped or buckled bag (open bags are tempting for pickpockets), roomy enough to hold everything at once, with a secret compartment for high-value items. If you have more than one bag it can be easy to forget or drop one (or more!).
When you're in a foreign city or out very late, it's a good idea to keep spare cash (including change for a telephone box) in a different pocket. If the worst happens and you're relieved of your wallet, you will have enough to get home. If you're concerned, you could use a money belt – worn inside your clothing, it provides a safe and discreet home for your cards and money. Openly using an MP3, camera or mobile phone can make you a target; these items are the most commonly stolen, so tuck them away when you are walking after dark.
Safety Equipment
From personal alarms to reflective clothes and numbers on your phone book, a little forward-thinking means you will be well equipped to deal with an emergency. Before you leave, check for all the essentials, and add useful numbers to your mobile phone – local taxi firms, friends, local police and hospitals. You might also include a 'Directions' service if you subscribe to one. Personal alarms are cheaply available and give you extra moral support if you're nervous about walking alone. The very best safety equipment you can take out with you after dark? Is a set of self defence skills that can help you to walk away from the situation if you need too such as Reality Based Self Defence that we teach at Tring Martial Arts.