Nurse's warning to youngsters on carrying knives
Talks by an A&E nurse that graphically illustrate the perils of carrying knives are having an impact on Liverpool's young people
guardian.co.uk, Tuesday 5 July 2011 14.30 BST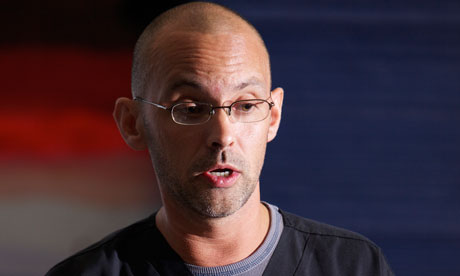 One of the excluded pupils in the 30-strong audience asks A&E nurse clinician Rob Jackson to describe the worst thing he has ever seen while dealing with the aftermath of knife crime.
Without hesitation, Jackson says: "A very close runner up to watching children die is seeing the look on the face of a mother when I tell her that her son has just died from knife injuries. We had a boy in recently who was asking for his mum and five minutes later he stopped breathing. We couldn't save him. If you carry knives or hang around with those who do, believe me, your luck will run out."
Jackson, 39, is addressing boys from a secondary school and others with behavioural difficulties as part of an anti-knife crime event in Liverpool's North End. The city sits alongside London and the West Midlands as the three areas with the highest knife crime in the UK. Jackson's presentations have so far reached more than 1,000 young people in Merseyside. His talk is accompanied by gruesome photographs of knife-related injuries blown up on a big screen to hammer the message home that a momentary act can have devastating consequences.
Injuries from knife attacks in Liverpool have decreased by 28% during the 18 months Jackson has been doing this pioneering work. He points out that many knife-wound victims are injured with their own blades, carried for their own protection, often against drug dealers who seize the weapon and use it against them.
Not all injuries are attacks. Jackson tells of a young lad who was carrying a knife in his back pocket and slipped and fell. The knife lacerated the boy's backside and he developed flesh-eating necrotizing fasciitis from bacteria on the blade which ate away most of the bottom half of his body and killed him.
This approach to combating escalating knife crime was the brainchild of Rachel England, team manager at Liverpool's youth offending service, which received funding from the Youth Justice Board to run a pilot involving healthcare workers in knife crime prevention.
"There has been research in London and America showing the effectiveness of health worker involvement, but we didn't just want groups of kids taken to A&E to be shocked into stopping carrying knives – that approach is a proven failure. We wanted to make a hard-hitting impact on them but in an educational setting, with proper learning outcomes," says England. "Rob has treated a lot of the cases he talks about so he is very connected with the images and he has been absolutely brilliant. He took a bit of arm twisting at first because he didn't believe the kids would listen to him. They do listen."
An initial pilot involved 100 young people with convictions for carrying knives, and only one participant has since reoffended with a knife. "Normally it is much, much higher", says England. "We wanted to illustrate that knife crime doesn't 'just' result in death but also serious disability and impairment and terrible devastation for families. We believe Rob's work has contributed significantly to the reduction in knife crime here."
Actor Brooke Kinsella, whose younger brother, Ben, was stabbed to death in 2008, and who was commissioned by the prime minister, David Cameron, and home secretary Theresa May to write a report on schemes to discourage young people from carrying knives, cites Jackson's work as having a bigger impact than other projects. Jackson and England are talking to the Home Office about how the model can be replicated in other areas of the UK with young offenders and in schools and centres for excluded pupils.
Last year, a group of magistrates persuaded Jackson to extend his presentations beyond young offenders. Although there is no money to fund his preventive work with teenagers he says his employer, Royal Liverpool hospital trust, is supportive and allows him time off.
He says of his success: "There are limits to what we can do, but if we can make young males think of the aftermath of knife crime at that critical moment when they might be about to acquire or carry a weapon, then at least they can make that decision knowing the possible consequences of their actions. Hopefully, some will decide not to carry a knife."
Tring Martial Arts teaching 100% reality based Self Defence classes and can offer you an alternative to carrying a knife or how to defend yourself against a knife attack – see our reality based self defence class Krav Maga concepts by clicking on the link